Malabar
Corona Del Mar, CA
This contemporary home is characterized by its split level design and dramatic roof lines. The entry is shaped by a large stone wall that runs from the exterior through the interior. Where the roof meets the wall, it pulls away allowing natural light to filter down the textured stone; creating a regular rhythm of roof penetrations from exposed steel awnings to skylights lining the foyer.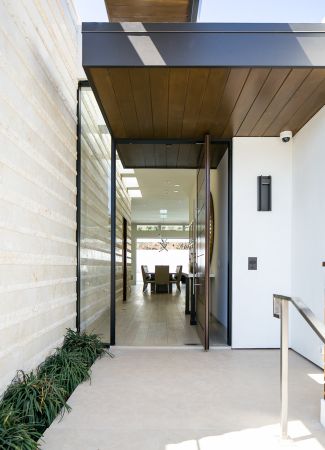 The entry sequence terminates at the living space which is comprised of high ceilings, clerestory windows, and large pocketing doors
With a steeply sloping backyard, the outdoor living space anchors into the slope, using it as a dramatic backdrop that shapes the pool area, fire pit, BBQ, and outdoor dining. The covered patio creates a layer of privacy from the homes above while select openings provide opportunities for natural light.
Project Stats
Size: Appx. 4,500 S.F.
Collaboration
Architect: Brandon Architects
Builder: Team Ultimo
Interior Designer: Detail A Design Firm
Landscape Architect: David A. Pedersen
Related Projects