This modern masterpiece sits beach front in a private coastal community adjacent to Pacific Coast Highway. With direct access to ocean frontage, visitors to this home enjoy the unique opportunity to walk directly out onto the sand from the home's living spaces, something that is becoming increasingly rare in Southern California. Strict height regulations allowed us to get creative with the design; by splitting the home into multiple levels, we were able to not only maximize the views, but do so in a dramatic way. The great room features 12' tall sliding glass doors that open directly to the ocean creating an indoor/outdoor extension of the living space.
With only 35' of ocean frontage, the design allowed for numerous program spaces to enjoy the ocean views.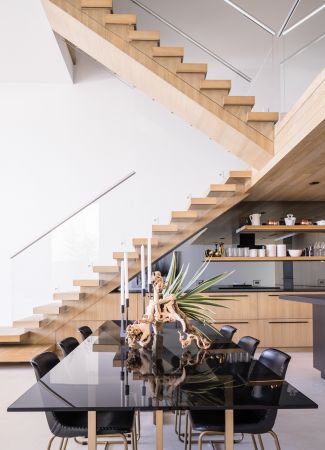 Ocean views can be seen from various vantage points throughout the home, including the upper mezzanine level.
Project Stats
Size: Appx. 3,560 S.F.
Collaboration
Architect: Brandon Architects
Builder: Pinnacle Custom Homes
Interior Designer: Summer Jensen
Related Projects