Beach View II
Dana Point, CA
This traditional home is inspired by the shingle-style homes common in East-Coast vernacular, found in areas like the Hamptons and Martha's Vineyard. The style has historical beginnings in the Northeast's fashionable summer destinations, such as Newport, Cape Cod and eastern Long Island, but also has contemporary roots in West Coast, seaside communities. This style is recognized by the wood shingle wall cladding and roofing (often continuous), shingled walls without interruption at corners, asymmetrical facades with irregular steeply pitched rooflines and porches of varying sizes. The style is also dependent on the use of rich, high-quality materials such as red cedar wood shingles and trim, natural stone veneer and copper accents. Beach View II attempts to include all of these materials as a blend of traditional elements, to compliment the architectural style, while uniquely responding to the views and site constraints.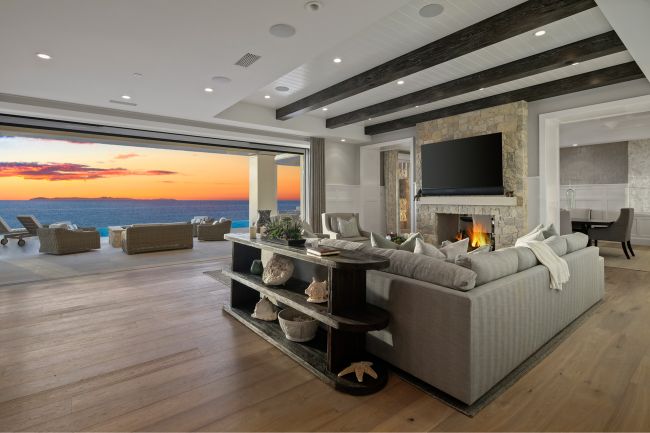 The home takes advantage of the views at the rear of the site by incorporating large expanses of operable doors to frame ocean views, maximizing indoor/outdoor circulation.
The traditional style demands added attention and quality of detailing in nearly every aspect of the home's exterior, including the front entry door, wood picket railings, custom made garage door, boxed eave returns, custom milled roof fascia, exterior lights and copper gutters and downspouts.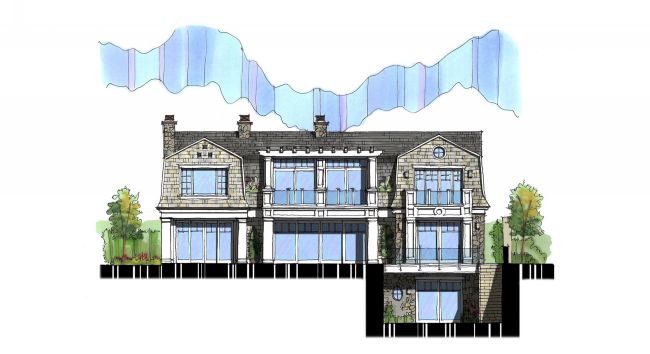 The wall cladding compliments the style, composed primarily of red cedar wood shingles (treated and stained) with accents of decorative wood paneling.
Project Stats
Size: Appx. 11,400 S.F.
Collaboration
Architect: Brandon Architects
Builder: Patterson Custom Homes
Interior Designer: Brooke Wagner Design
Landscape Architect: David A. Pedersen
Related Projects