Harbor Island
Newport Beach, CA
A traditional home located on a private island within Newport Harbor, the Harbor Island Residence's three stories are immediately celebrated upon entrance with a triple-height foyer, nearly thirty feet tall. The main living space, overlooking the rear yard and calm harbor waters beyond consists of a bar, lounge, great room, dining room, and kitchen, all connected by the project's open plan, yet married still with old-world detailing and finishes, giving the project a contemporary feel rooted in timeless building traditions.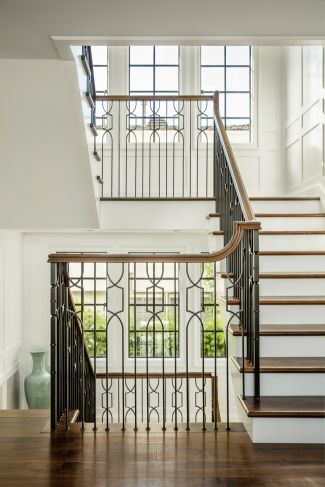 THE STAIRCASE HAS THE DUAL PURPOSE OF PROVIDING A BOOKEND TO THE ENTRY AS WELL AS CONCEALING THE WINE STORAGE AND CORKING AREA.
The second level contains three secondary bedroom suites, laundry, gym and master suite overlooking Newport Harbor and Linda Isle to the North. The entertainment space dominating the third level houses a bonus room and a bar, and opens to a rooftop view deck, perfectly positioned for sunsets over Newport Harbor to the South.
Project Stats
Size: Appx. 8,500 S.F.
Collaboration
Architect: Brandon Architects
Builder: Patterson Custom Homes
Interior Designer: Details A Design Firm
Furnishing Designer: Barclay Buterra
Landscape Designer: David Pedersen
Related Projects