Kings I
Newport Beach, CA
The form of the home was born from the unique view and the program's need for entertainment space along with maximized ocean views and privacy from neighbors and the busy Pacific Coast Highway below. An open floor plan with a strong entry axis draws visitors through the home to the expansive view. Cantilevered glass cubes project outward to capture unobstructed views of the ocean while still maintaining a buffer from the noise of PCH. The large cantilevered deck structure was projected out to clip the view angle of the highway from the living spaces and its unique shape and material helps deflect noise.
A day lit basement was also incorporated into the program to provide ample indoor- outdoor space at a lower level where there was more privacy and the ability to screen the noise with plantings and water features without obstructing the views from the upper floors.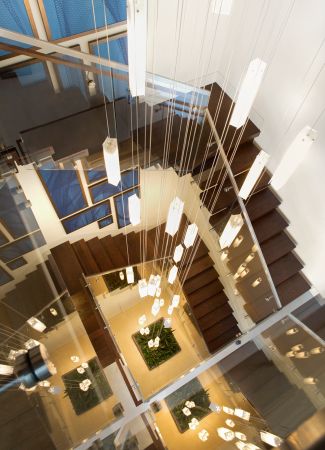 The challenge was to incorporate the client's need to create entertainment space and maximize ocean views while mitigating the noise from PCH.
Located at the edge of a hillside overlooking the Pacific Coast Highway and the Newport Beach Peninsula, the views from the lot are spectacular.
Project Stats
Size: Appx. 9,294 S.F.
Collaboration
Architect: Brandon Architects
Builder: Spinnaker Development
Interior Designer: Details A Design Firm
Landscape Architect: MDZA Landscaping
Related Projects