Perham II
Newport Beach, CA
This modern coastal home, located in the Cameo Shores neighborhood in Newport Beach, CA, boldly embodies the concept of outdoor living characteristic of the Southern California lifestyle. Just 400 feet from some of Newport Beach's most beautiful and coveted coastline, the home blends light textured stone with warm wood ceilings, punctuated with black metal accents and finishes. Boasting a massive outdoor deck overlooking both pool and ocean beyond, the home's covered outdoor living space is made to feel even more expansive through corner glass walls which "disappear," erasing the boundary between both the main room and kitchen with the deck. To the front of the home, a deep, triangular overhang leading up to the home's front door generates an un-missable curbside effect.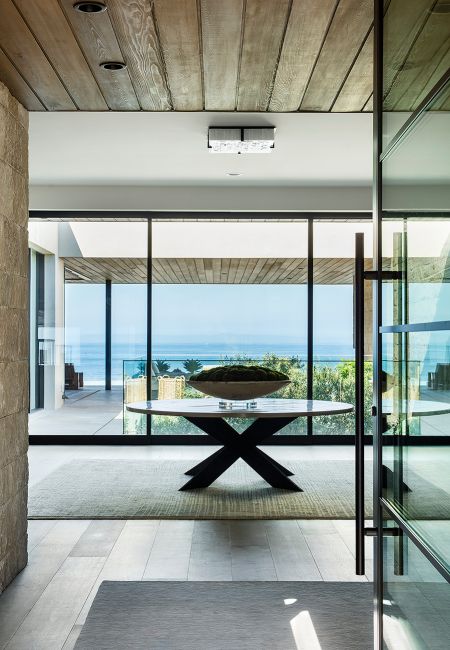 Inside, boldly-minimalist interior design creates dramatic spaces which celebrate the unique natural surroundings of the home
In the kitchen, minimalist interior design ebbs into a more homey, casual feel, with light wood features and white cabinetry, softening the home
Nearly each interior space within the home changes dramatically, celebrating Orange County's year-round favorable weather with large sliding doors that open the home onto the outdoor patio and deck while letting in light and air throughout. At the same time, the large overhangs designed at the back of the home block the interior from the direct sunlight that would be undesirable for the living and dining spaces.
In the backyard, a semi-circular pool, nearly 60 feet in diameter, provides the perfect spot to take in the stunning sunsets and faces unobstructed views of Catalina Island. Set into the backyard deck, a sunken outdoor lounge maintains the sightlines from within the home while increasing the functional outdoor space.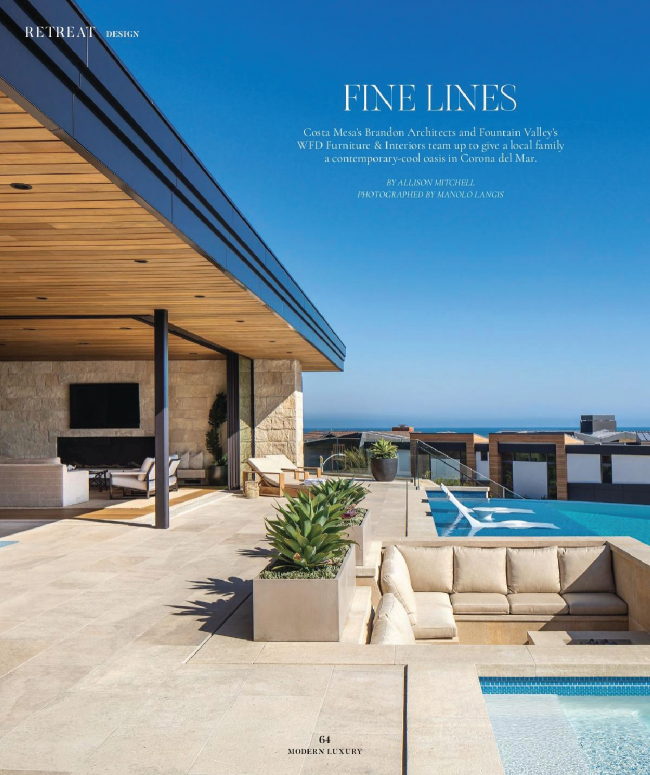 See Perham II featured in a recent Modern Luxury Magazine publication.
Project Stats
Size: 9,854 S.F.
Collaboration
Architect: Brandon Architects
Builder: Donald Patton Construction Inc.
Interior Designer: WFD Furniture & Interiors
Landscape Designer: MJS Landscape Architecture
Related Projects